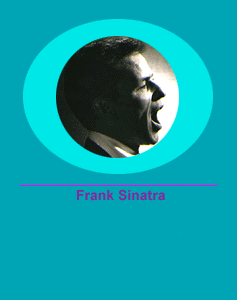 Francis Albert Sinatra: December 12, 1915 - May 14, 1998.
He was possibly the best singer in the world, he gave many things to popular music and acting too, specially in 3 movies: "From Here to Eternity", "The Man with the Golden Arm" and "The Manchurian Candidate".
"The chairman of the board" was known in the whole world and his music is now a treasure.
pictures
frank2.JPG 26k: wearing a tuxedo
frank3.JPG 34k: black & white portrait
frank4.JPG 24k: another portrait
frank5.JPG 34k: sitting in the sets of Anchors aweigh
frank11.JPG 21k: publicity picture
frank12.JPG 29k: the young Frank
frank13.JPG 12k: Bob Hope,John Wayne,Ronald Reagan,Dean Martin and Frank
frank14.JPG 39K: a classic singing wearing a white smoking
frank15.JPG 17k: in the studio
frank20.JPG 41k: toasting with Bing and Grace Kelly
frank21.JPG 18k: a duet with Elvis
frank22.JPG 23k: shaking the hand of the queen of England
frank23.JPG 24k: 2 kings of music Frank and Luciano
The song "Come blow your horn"


Elizabeth Taylor Tribute 2000